Junior Member
Join Date: Jun 2011
Location: Kyle, TX
Posts: 20
Tip over protection
---
Is it possible to install tip over protection on a CC?
---
In the future please refer to the Cross Country as XC and the Cross Roads as XR; there are a few people that pick on posters for using the wrong designator.

The only tip over protection you can buy besides the forged or tubular highway bars are the bag protection bars. These are the bars that go in front of and around the bottom edge of your saddlebags. You can get the Victory ones for hard or soft bags from Victory. Also a dealership called Arizona Victory (AV) makes a beefier model in-house. The ones AV builds are used on the Police models of XC and XR.

The bag bars have helped a lot of people avoid a lot of damage. Typically a tip over with highway bars and bag bars results in a little scuffed chrome. Without bag bars owners have reported damage to their saddlebags from tip overs while parked.
---
Retired USAF, IYAAYAS!

2008 V-Star 1100 Custom Bobber project

2011 Crimson XR with Forged Highway Bars / Hard Bags / Passenger Backrest, Ness parts including Smooth Layback Plate Frame/Mount / Rad 3 Mirror / deep cut grips / drivers floorboards /shifter peg / brake peg / passenger pegs. Witchdoctor black rack, Lloydz filter / timing wheel / VFC III, 7Jurock windshield, Drag Specialties seat.
Junior Member
Join Date: Jun 2011
Location: Kyle, TX
Posts: 20
---
That is what I figured but on the Victory site there is an accessory, chrome tip over protection, and it list it to fit the XC. I thought that might be wrong. But again I was hoping the Vision and the XC might have the same chassis and it might be possible. Thanks for your response.
---
2011 White and Silver Cross Country
The Diamond
Join Date: Aug 2009
Location: N. California via Los Angeles, CA
Posts: 4,003
---
Its not picking on anyone its just the fact the the CC designation was for the older bike V92 Custom Cruiser first.

Using the XC makes it clearer when posted in a forum other than the Coss bikes forum.
---
Quote:
Using the XC makes it clearer when posted in a forum other than the Coss bikes forum.
STOP PICKING ON HIM!
I have an XR instead of an XC, but I have the forged highway bars and bag rails for full tip over protection as you can see in the pic. On a side note, I've heard from a lot of people about scraping their pipes when leaning aggressively. Well, I found out that the bag rails will also protect your pipes from being dragged. They hit JUST after the floor boards do.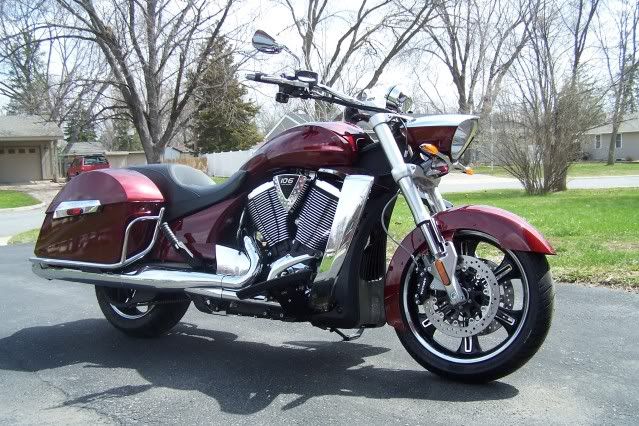 ---
Adam
2011 Victory Cross Roads - His
2014 Indian Chief 'Springfield' - Hers
New Member
Join Date: Jun 2011
Location: Woodstock, Ga
Posts: 1
---
Lifetime Premium
Join Date: Aug 2010
Location: NW AZ
Posts: 8,379
---
The police bike version of the bars are nice but I would not say they are better or better looking. That's mostly in the eye of the beholder. I personally think the Vic bag bars look better. It is possible the police bag bars protect the bags better in a slide though.
You know how d'em cops love to beat on their bikes.
Posting Rules

You may not post new threads

You may not post replies

You may not post attachments

You may not edit your posts

---

HTML code is Off

---