Quote:
I know it may be hard to beleive since I know you came from a M50 but after an hour on the road without stopping the XR starts to cramp my hands and bother my upper back. I don't have those problems on my M50. I think it is the combination of forward controls with a mini floorboard and leaning toward the tank on the M50 that makes it more comfortable for me. I am not saying my XR is all that uncomfortable but I think getting some handlebars that come back a couple of inches will probably solve the problem. As far as 2up goes the M50 treated me well and I can not tell a difference in handeling but you could tell a big difference in braking and power in the mountain twisties. The power of the 106 and the addition of two extra brake discs took all of those problems away.
Oh i see, that makes sense. I think the 2in pullback bars is probably one of the first mods many xr owners do anyway. Its likely to solve most of that issue for ya.
---
2007 Victory Hammer (Nuclear Sunset)
2012 Vstrom Adventure 650
2006 Suzuki M50 (Black) - Traded
1995 Mustang GT... Work in Progress...
You can get the Honda Shadow 1100s for cheap. I had a Shadow Sabre years ago - very solid, fast and reliable. Plenty of after market stuff to make it what ever you want.
You can find them in great shape going for $4000.

Good luck!
---
2010 Crossroads
Midnight Cherry

No Rice
No Pork
Just Beef

Enjoy the miles....we only get so many!
Senior Member
Join Date: Jul 2010
Location: cheyenne
Posts: 774
---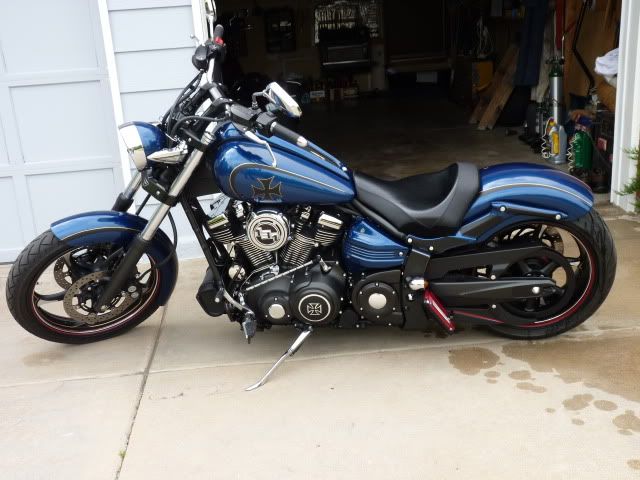 If you can afford it the yamaha Raider is the best V twin Ive ever owned. Prices comming down on used.
---
I have to grow old but I don't have to grow UP.thumb up. 2010 Jackpot.
Senior Member
Join Date: May 2012
Location: Earth
Posts: 235
I would hold out for a older Vic if your spending around 6000 their out there, I found this 04 Vic TC for only 4000 bucks it only had 2500 miles on it. I've always promised myself I would never become a brand loyalist but the longer I ride this bike the harder it is to keep that promise.
---
Captain Spalding's Fried chicken and gasoline. * EXIT 13 OFF ROUT 1 at RUGGSVILLE*

2004 TC, 05 Vegas 8Ball, 09 Yamaha FZ6R
Lake Havasu City AZ.
Member
Join Date: Jun 2012
Posts: 53
Thanks for all of the replies everyone. Nice to get some honest opinions of some other mfgs without being flamed.
Well, maybe you should look at an 07 or 08 Kingpin.......after all, some vendors mix Victory under the Metric banner for parts..... So you would be true to,your search for a bike...... A metric cruiser = Victory Kingpin.
---
2013 AG-XC:
Debadged, Gustafsson +2 Euro Flip windshield
Ma Vic (Black Tri-Ovals/S1 Package, pull backs, HID,
heated seat, bag bars, shorty antennae)
Ness (derby covers, Rad III mirrors)
Avon heated grips, Wolo Bad Boy air horn
RICZ's LD PL8 bracket and lotsa blacked out stuff
GOODY'S fork mounted lowers (3M'd)
Bag graphics & inner fairing, Bad Boys Design Peoria, AZ. Sena & XM in the saddlebag

Artificial intelligence is absolutely 100% NO MATCH...............for natural stupidity!
Quote:
OUch man! Heal up quickly ok?
If EFI is a requirement, those c50s and vulcans are exceptional values. The clutch is easy on them and there is absolutely nothing wrong with those bikes.
I rode the wife's c50 for 20k miles before I picked up the XCT this year. I liked that bike!
NADA for a 2005 c90 is $5600, but you'll find the clutch-pull on them is harder.
I'd seriously recommend c50 or vulcan 900 since you plan on moving to american made when your health and finances iimprove. The c50 has FAR superior stock seat by the way. The Mrs will appreciate that.
+1 on the boulevards. I've got nearly 20k on my M50 and never a problem out of it. Actually left the XR in the garage today and put 75 miles on the m50, it was looking lonely.
---
2011 Cross Roads Sunset Red
OEM short windshield, passenger backrest, crash bars, saddle bag bars, heated grips, vinyl closeouts, tachometer, ambient temp. WD lay down licence plate.
Quote:
Thanks for the responses. 6 grand or under on the price range so used only. Midwest is location. Boulevard's may be considered. VTX? Warrior? I was not thinking under 900cc maybe I should.
I got my V92TC for a little over $5000.He started at $7000 and came down fast when cash came out.I wouldnt trade the V92 for any of the Jap cruisers.too big of quallity and power dif.
---
2011 Cross Country 2007 Harley Street Bob V&H Big Radius pipes Stage one breather
1972 FLH (been through 3 wives and still loves me)
1976 Jeep CJ5 my orange turd
2008 Silverado
2005 Trailblazer
2004 V92TC GONE
Senior Member
Join Date: Oct 2010
Location: Prairie City, IA
Posts: 257
V Star 1300
---
Take a look at the V Star 1300. I sold my 2007 for $5,000 setup with a fairing and bags. They are a very dependable bike. Sold mine with 38K on it and never had a problem. I think Star will be using the same V Twin in the Royal Star and Venture when they finally update them after 12 years. The 1300 is a very good long range bike like the CC is.

Word to the wise about a MS Batwing fairing. Save your money and buy a Med height windshield with lowers. Batwing looks cool but beats the crap out of you at higher speeds.

A freind of mine actually has his for sale in Ames, IA. It is setup for solo if your interested.
---
ATGATT because walking away in disgust is better than riding away in an ambulance.

Never get to busy making a living that you forget to make a life.

Larry

2011 Pearl White Vision 88,000 smiles
im another vtx 130C convert. bought new in 04. best overall bike
i ever had. we rode 2 up all the time. put on an ultimate seat for comfort. and easier clutch pull is available.smoth,quiet,good
power, and good mileage.32000 trouble free miles. new owner
loves it. we wanted more carrying room and the dealer also
sold victorys.--irv
---
2011 cross roads, crimson red, speedo reflash,
forged bars,bag bars,tach,driver and pass backrest[vic]
vic luggage rack and lowers,iso grips,2" pullbacks
hard bags,xc adj pass footrests, color keyed side
chin fairings. 7 jurock custom made windshield.
ultimate seat, hid low beams, timing wheel back in,
and of course, a ric z laydown license bracket.[5
mph faster].
Posting Rules

You may not post new threads

You may not post replies

You may not post attachments

You may not edit your posts

---

HTML code is Off

---