Junior Member
Join Date: Nov 2012
Location: Temecula, Ca
Posts: 18
New Judge Owner in CA
---
Hey everyone, my name is Shawn and I love in the south Riverside county of SoCal. I got in a bad accident several months ago and havent been able to get comfortable on my CBR anymore. So I went to the local Motorsports dealer looking for something more comfortable, but that wouldn't make me feel like Im getting old. I was just going to look around and "try some bikes on." But then I spotted it sitting by the door. After several hours of negotiations, I am now the proud owner of a Sunset Red Victory Judge. Its a whole new world compared to my CBR, but I'm loving it so far! I just have to be patient with the break-in period...then I can see what it can really do!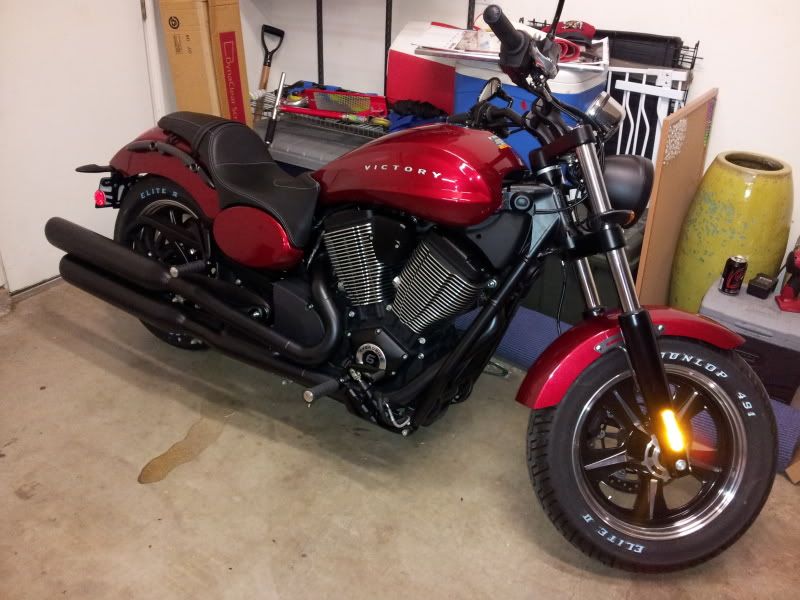 ---
That's one beautiful Judge there! I almost bought the Judge myself, but ultimately went Highball. I am not sure about how much to worry about the break-in period. Seems to advise not running long at constant speeds. Not sure it restricts short bursts as long as youdont rev above 3500 for too long.

Anyone else have advice on break in period use?
---
'12 Highball, w/fender&fork LED turns, side mount plate, soft bags and iPod mount. Arlington, VA.
Junior Member
Join Date: Nov 2012
Location: Temecula, Ca
Posts: 18
---
I have a pretty serious daily commute (100mi roundyrip)...and it got a little rough at 70+mph with the wind. Has anybody bought a windshield for a Judge? How does it look and ride? Thanks
Junior Member
Join Date: Nov 2012
Location: Temecula, Ca
Posts: 18
---
Thanks for the compliments. I really like the look and feel of the bike.

According to the owners manual, break in is:
0-90 mi...dont operate for extended periods of time at throttle positions above 1/3 throttle
90-300...above 1/2 throttle
300-500...above 3/4 throttle.

My commute this morning put me past the 90mi mark. I just varied the throttle position and took it easy all the way.
Lifetime Premium
Join Date: Oct 2012
Location: Lake City, FL
Posts: 994
---
Hello and Welcome from North FL Enjoy the Ride .. Looks great !!
---
2017 Indian Chieftain Dark Horse/2005 Dyna Super Glide