The latest Garmin GPS - Zumo 590LM
---
It's the Zumo 590LM. And it's friggen awesome! I had a 350LM but the screen died just out of warranty. I was thinking of the 390LM but it's just too darn close to the 350. Then, I saw a press release for the newest 590. See it for yourself
HERE
. 5" screen that you can portrait or landscape it on your mount.
It's got everything a motorcyclist didn't know they wanted. I just used it on a 4 day trip and all I can say is WOW!!!
Tire pressure monitoring, control your media right there on the screen, phone controls too. What I found to be the best, without a doubt for the touring folks is the ability to see traffic AND weather real time right on the map. It does require a smart phone connection bluetooth and $20 worth of a one time purchase for the Traffic and Weather. Well worth it. The app that talks to the GPS through the phone is called SMART LINK. App is free though.
Case in point, riding home the other day looks pretty ominous ahead. A quick couple of touches and on the screen I can see that what I see ahead I am going to miss because I turn south and the weather is moving NE (the GPS will play the weather pics from the last half hour or so I believe it was).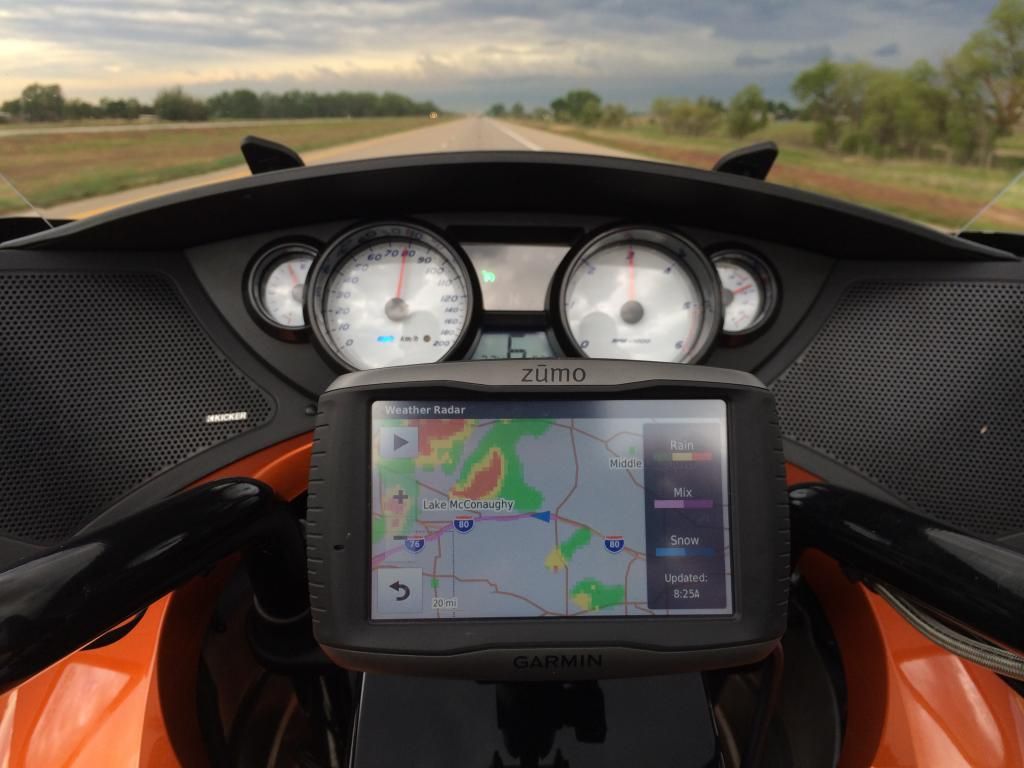 Now, if you are used to the GPS's that has selectable dashboards, this will blow your mind. No more. Instead, while you are on the map page, one touch opens up an entire icon menu that allows you to select loads of apps to be displayed along with the map. Like this: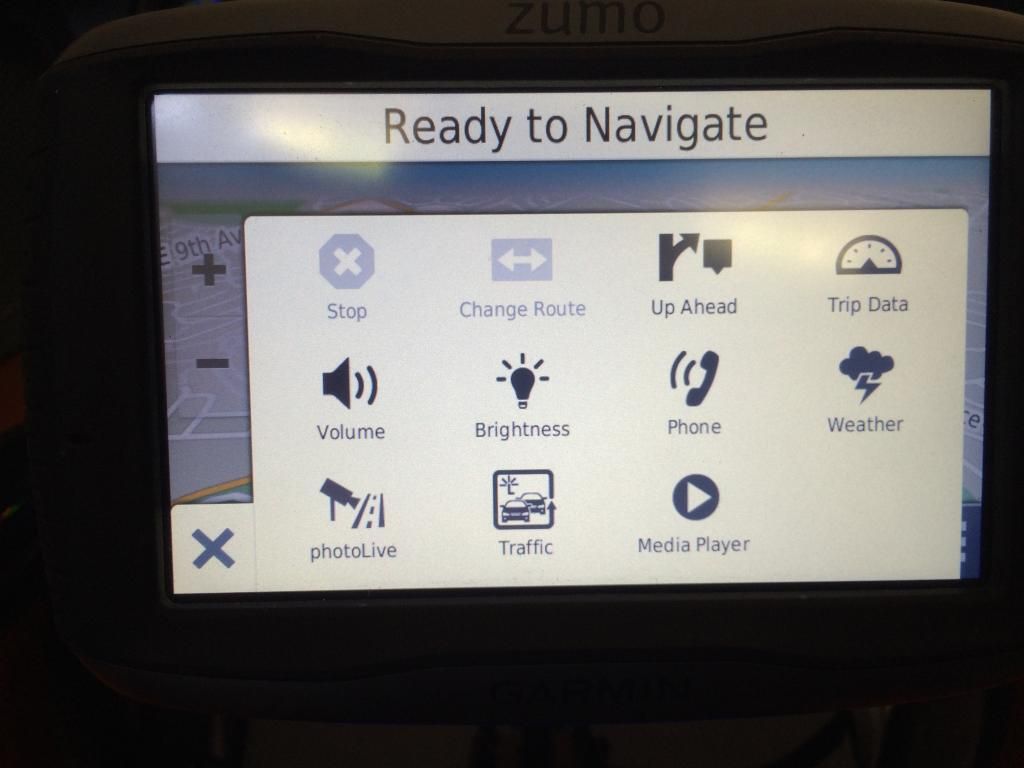 If you touch weather: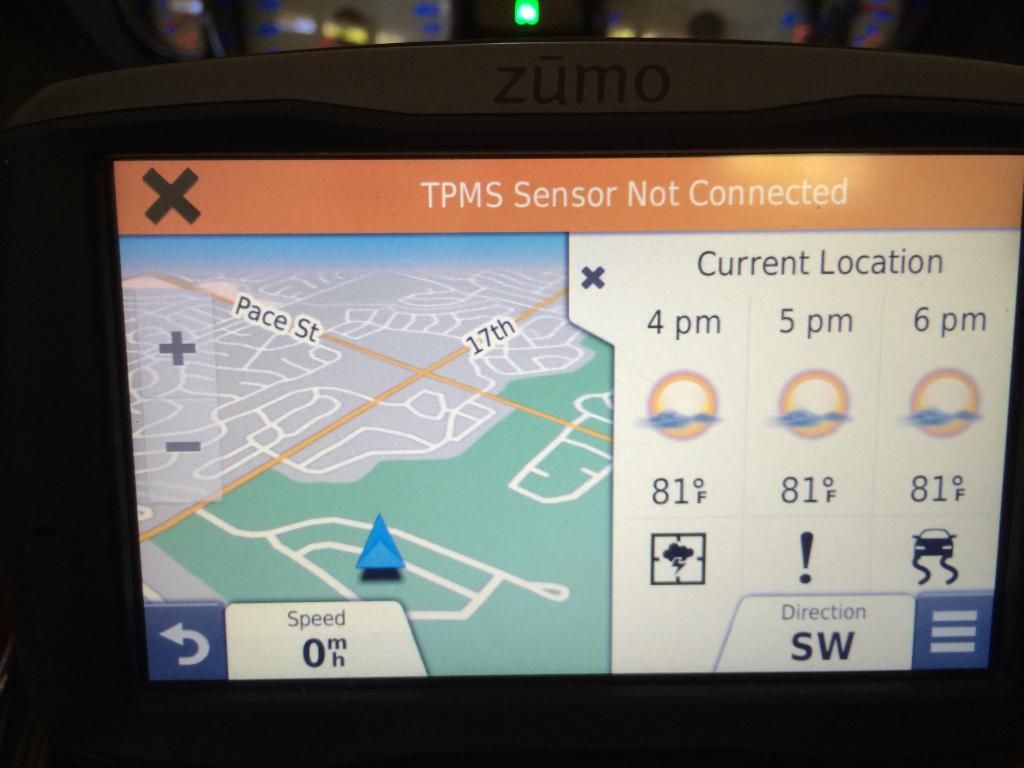 Traffic camera's: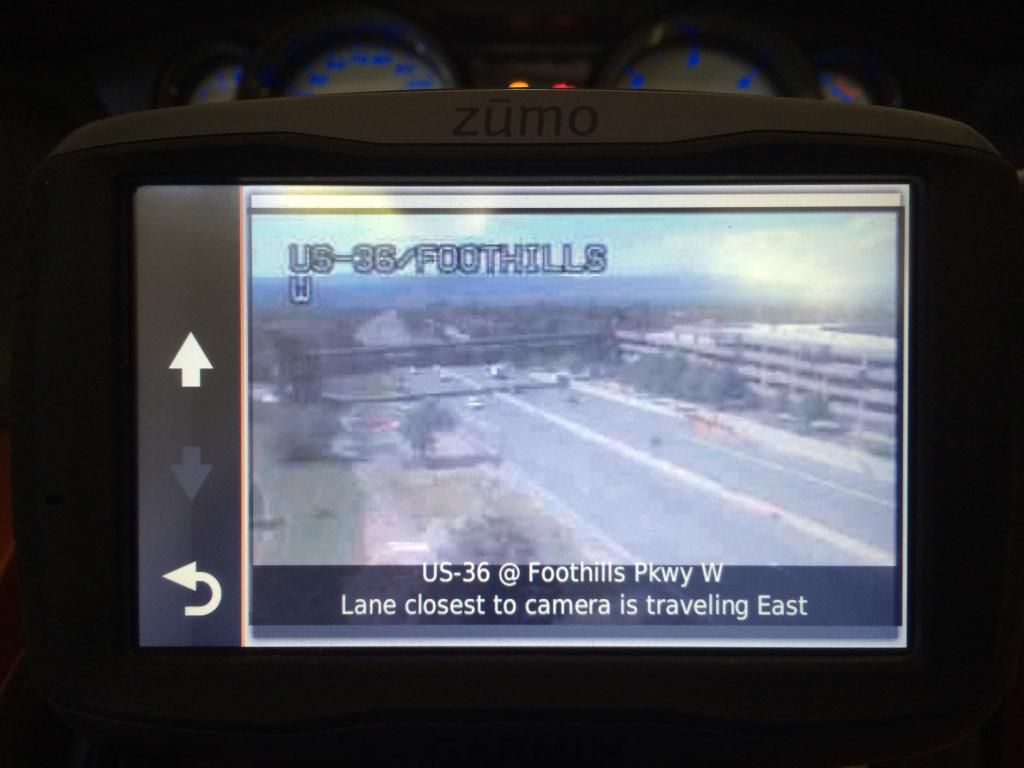 or Pandora: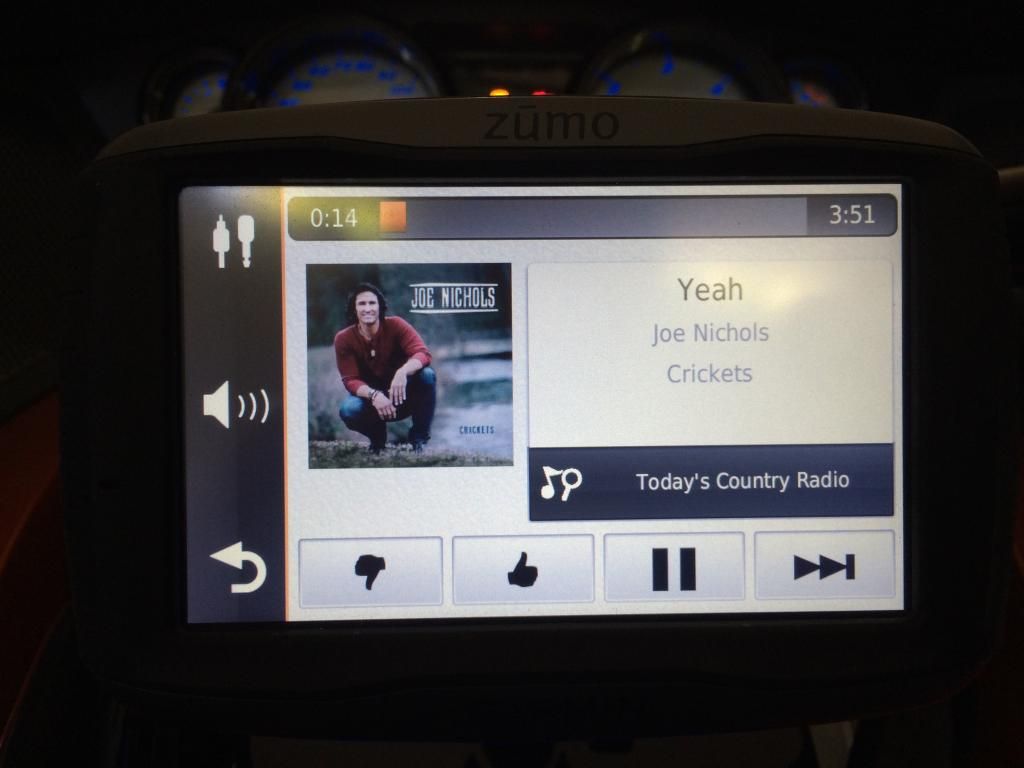 The last picture I wanted to show was the tire pressure monitors. You have to buy the sensors separately ($69 each was the lowest I could fine online). I have 4. 2 for the bike and 2 for the trailer. Only the bike's were linked when I did this.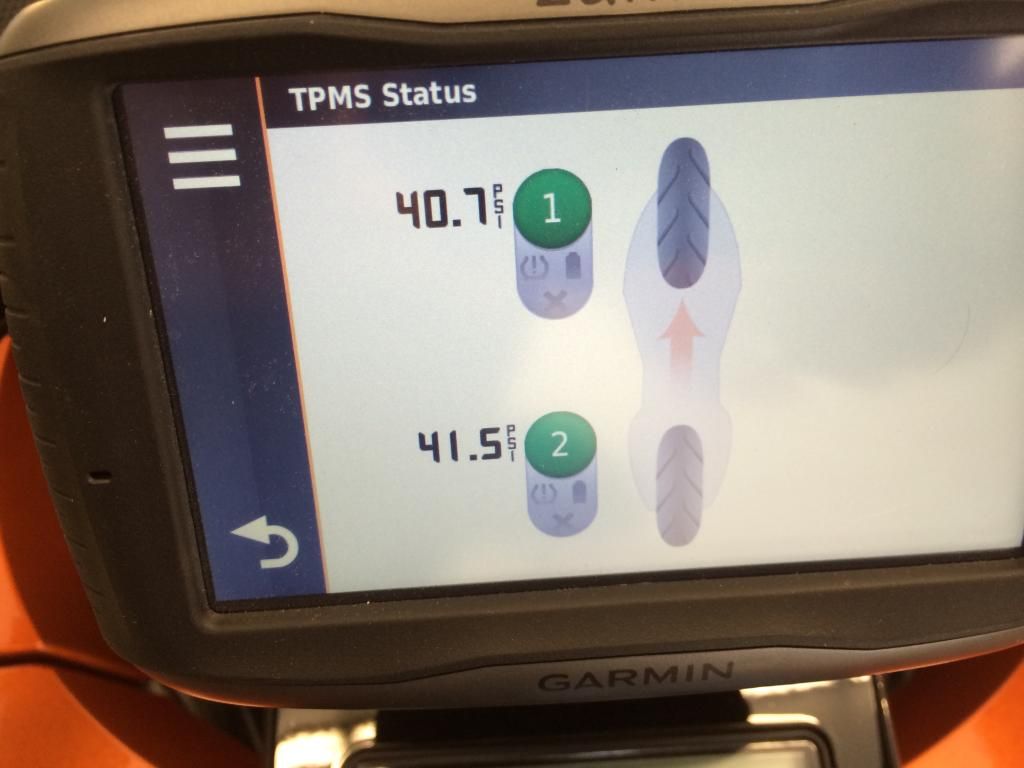 Since it's quite a bit larger than the 350, I wanted to show that it mounts just fine to where I had the 350 mounted. Turn to turn clears it.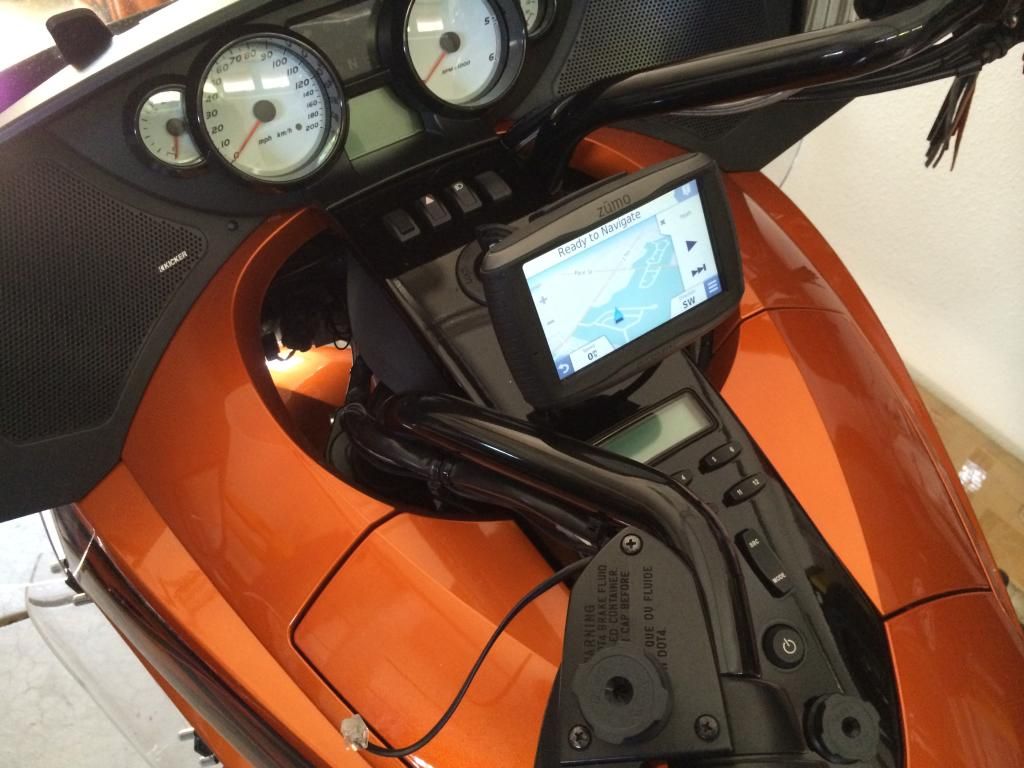 I've wired it directly into the bike exactly like the Victory units do. Same plug just didn't use the victory plug. The GPS comes with everything you need to mount: RAM ball and short arm, the mount itself, the cover for the mount when the GPS isn't in the mount, and all wiring.
The wiring is simple. +/-, then line in plug, line out plug, mic in plug (for hard wired headsets), and finally a USB plug with about 5' of wire to charge your stuff with. All the plugs except the USB are headphone type of female ends. Sorry I didn't take a picture of all that. I meant to. I plugged the bike's GPS wiring into the LINE OUT on the GPS. Now it goes through the speakers just like Victory designed it to.
The only thing I have found lacking is with the Tire Pressure monitoring. You create a profile based on how you will use it. Like 2 tires, 3 tires or 4 tires. Then there's pictures corresponding to those options. Trikes, Can-Am's, cars, bikes. There wasn't an opting for a bike pulling a trailer. The only 4 sensor was an ATC. This is what I chose so it works. The left front tire on the "ATV" is my front tire, the right front tire is the back tire on the bike and then the rears are the trailer tires. All PSI settings are yours to choose. Like I want my trailer tires to be 36psi. I chose to have an alarm if they go below 32.
I just wanted to spread a little word on this baby. I think it's the best unit yet, by anyone, made for motorcycles. See ya! Ride safe!
---
2012 #20 NESS Vision
DARKSIDE BABY!
Stage 1 w/D&D pipes + lots of Victory add ons. PC-V w/AT, Lloyd's intake, filter, ATS, & Variable Clutch.
2013 Bushtec Entourage in matching Ness color and graphics -
See the PAINTED TO MATCH process
Wife rides a 2016 Gunner
LONGMONT COLORADO
---
Last edited by TheMike; 06-02-2014 at

05:03 PM

.
Lifetime Premium
Join Date: Jul 2009
Location: TEXAS
Posts: 1,565
---
I ordered same unit. Cannot wait to get it to install on my XC.
---
www.noemtz.com
Parts & Accessories, Grips, Pegs,Tail Lights, Clear Signal Lenses, Clutch Cable Repair Kits, Custom Tank Badges, Brake Pads, Led Conversions and installation, 12 Volt Adaptors, Chrome, Dyna Beads Wheel Balancing, Heel Blades, Kickstand extensions and much more!
"I Would Rather Die On My Feet, Than Live On My Knees...Emiliano Zapata - 1910"
"I DON'T PICK SIDES, GO WITH THE FLOW, OR PUT UP WITH BULLSHIT.
I RELY SOLELY ON MYSELF, BEAUSE I HAVE MY OWN BACK. NOEMTZ - 2010"
Posting Rules

You may not post new threads

You may not post replies

You may not post attachments

You may not edit your posts

---

HTML code is Off

---