Discussion Starter
•
#1
•
Well, my very first long distance ride is a memory. And what a memory it is.
My Victory Vision 8Ball performed flawlessly. The Vision handled interstates, back roads, heat, cold, rain, wind, altitude and everything else that I threw at it, and handled it all with no complaints.
Just a few notes…
- The power windshield is by far the best, most practical addition to my bike. Being able to adjust on the move is not just convenient, but a safety feature as well. The difference in stability, especially at interstate speeds and around the big rigs, is amazing.
- Be very sure you tighten everything before leaving. I thought I did that until my right side armrest flew off and still resides somewhere in Kansas.
- It is curious that a touring bike would need an oil change every 2500 miles. I had to change it before I left, while on the trip (in a hotel parking lot) and it needs another on my return.
- At pretty much every stop, whether for fuel, lunch, hotel, etc. the Vision was the center of attention. I can't tell you how many times folks would come up and ask about the Vision. One of my Goldwing friends commented that he was going to start selling tickets.
- It's great to know that if you had a choice of owning any bike, that even after a trip like this, the Vision is still the answer.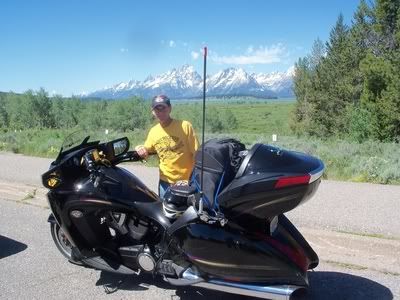 For pics of our journey, click here…
http://www.scrc412.com/gallery2/main.php?g2_itemId=6475
For the story of our journey, click here…
http://www.scrc412.com/smf/index.php?topic=546.0