Discussion Starter
•
#1
•
I've scoured this and other forums looking for some clear and consice instructions for this with no avail so, I've taken it upon myself to document the process.
This thread will be updated as I progress.
First step in the process is installing the Isolator and related sub-harness.
In the following pic, I show where to tap into the existing wiring harness.
Here I illustrate which wires are for what.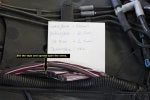 Here's where I put the Isolator, secured by a zap tie.
An expanded view...
Here you can see where I connected the supplied wire taps and a cross-reference for the wire colors.
More on next post....