Hi all, decided to take the plunge (so to say) and open up my fairing to do a little work.
I have seen a couple posts on getting into the fairing, thought I would share maybe a little more info for those thinking/needing to get in there.
There are 8 socket head bolts holding the fairing on, 4 on each side. 3 on each side are exposed down the side, the 4th is hidden under the speaker grills. You also need to remove the headlight. Don't forget to unplug the turnsignal connectors (small square connectors on each side)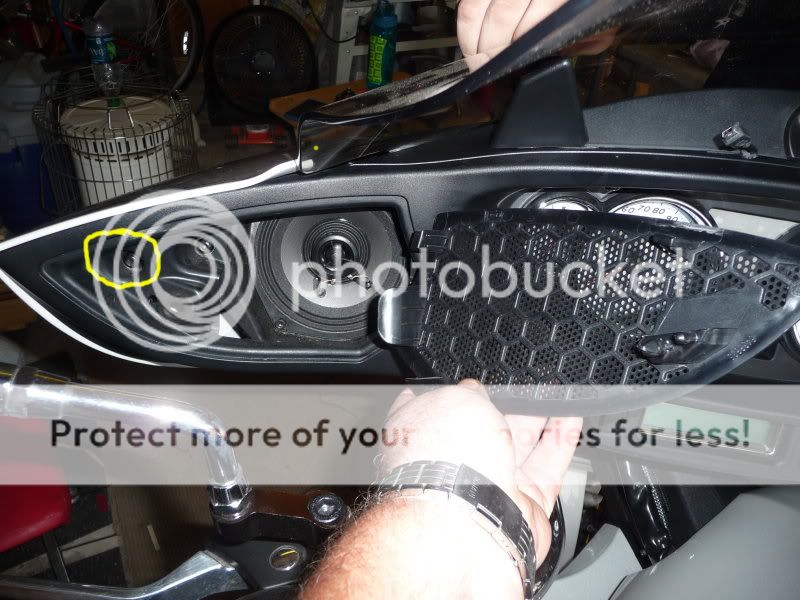 I was very surprised at how easy the grills come off. I was worried about breaking something but just slipped a small "L" shaped allen in thru a hole at the pointy end of the grill and pulled gently. There is only one keeper that snaps into a rubber grommet, the other end of the grill has retaining tabs.
That was the easy part, the next part was a little un-nerving for me (again afraid of breaking something). Once the bolts are the outer fairing is still not free. You need to grab at the top (vent location) and at the top opening of the headlight, lift up and pull, there are 2 straight snap tabs that help hold the fairing on.
I wanted to do the following work:
Install BadBoy horn
Install hardwired power for my GPS
Install Flash-2-Pass (garage door opener)
Clean up my previous HID install
First thing is the GPS wiring. I found a hardwire kit for my Garmin on EBay and decided to tap off the fairing power-outlet. I wanted to hardwire the GPS for a couple reasons, biggest was I hated all the cord for the car plug blowing in the wind and getting tangled, second was to free up the power outlet for other things.
I used Posi-Taps to tap into the wires going to the power outlet. These things are the chit, way better than those Vampire style clamps to tapping into wires.
I ran the GPS connector out the top of the fairing
Note: if you decide to pull that top plate, you will need to remove the 2 screws, and one of the windshield mounts. There are a few tabs that slip into the backside of the main dash panel also
Be sure to drill you access hole to clear the aluminum frame but staying under the top windshield piece.
cont'd.....