Discussion Starter
•
#1
•
Hello all,
I just bought myself a 2000 v92. Love the bike but now in reading all the posts on tranny issues everyone has had. I knew it was a problem but it seems like no one has had one of these bikes without having problems. Mine has 30,000 kms on it and the P.O. Said he had no issues with gears slipping at all. I have only rode it a bit due to weather but it seems fine. I really don't know what to do. Should I get rid of it now before I have problems?
Really love the bike and for $5000 (canadian $$$$) you can't touch another American bike in my area. I've looked at parts or fixes and nothing exsists. Even freedom motors seem almost unavailable if a guy ever did have issues. It's the biggest crock I have ever heard of, usually if a company has issues they at least sell the parts to fix em!
Another thing I can't get over is that no one has come up with an aftermarket fix!. There must be some money in that?
Appreciate your feedback.
Thanks.
Mark.
Oh yeah. Here is my bike.....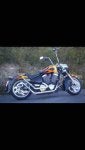 Sent from Motorcycle.com Free App