I didn't like the sound of the stock exhaust so I cut, hacked and drilled on my stock baffles. I couldn't get the sound I wanted and I wasn't worried about destroying my stock baffles because my fall back plan was to order some Monster Thunder Baffles from bigcitythunder.com Well, I gave them a call with the specs of my X-Bow exhaust in hand. Pipe I.D. 2-5/8" and baffle O.D. 2.6" (just a hair under the pipe I.D.) Turns out they don't make baffles that large for the X-Bow exhaust.
I talked to a forum member about making a set similar to the Monster Thunder original series but then decided to try it myself. I ordered a section of 2" O.D. aluminized steel exhaust pipe, four 2.5" O.D. to 2" I.D. aluminized steel exhaust reducers, a couple 3/4" O.D. steel washers and a couple 1/4" - 20 steel hex head bolts from summit racing.
I measured and marked the reducer 1.5" up from the step down, then wrapped duct tape around the reducer at my mark so I get a straight line all the way around the reducer and marked the edge with a black sharpie.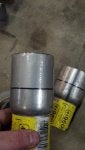 I used a .040 cut off wheel and cut just outside my mark leaving just a little bit on the outside.
I used a grinding wheel to grind the metal down to the black line. I did it this way just so I don't accidently cut too much on the inside of my line.
I used a gasket remover attachment on my angle grinder to get all the sharp burs off. Not trying to get it perfect, just enough so I don't cut myself handling the baffles.