Discussion Starter
•
#1
•
So after reading other members opinions on the Vic HWY Peg mounts and the fact that they are $200 I decided to make my own. These are still unfinished as I wanted to try them out for a while before taking them to be professionally coated. The whole project cost me about $60 (<$50 for the pegs on Ebay and $10 for the steel plate).
First off I started with an old piece of cardboard and some bolts that fit. Once I mounted the cardboard to the crash bar I had my GF hold up the foot peg to identify where I wanted the peg to be positioned. In the event that you don't have a GF you might have a buddy do this. No you cant borrow my GF. LOL!!:ltr: Now that I had the lay out of the bolt pattern I could determine the shape that the mounts would be. I cut the cardboard and mounted it back up there (and trimmed and mounted) a couple of times just to make sure I had it right. Here is what it looked like on the bike.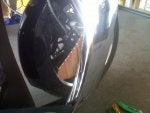 Now having the shape I laid the pattern out on a piece of 1/4" of 12"x4" flat steel that I got from Lowe's ($10). I did this in a way that minimized the number of cuts that I had to do. BTW...Home Depot did not have this.
At this point it is time to cut. This was done primarily with a Saws-All, but I also have a blade for my circular saw and a right angle grinder that I used to massacre the steel plate. This is what I ended up with.
After that I held the 2 brackets together with vise grips and a table vise and began trimming the edges with the two grinders. This was to get the final shape and insure that both brackets were the exactly the same.
The next step was putting the bends in the brackets. This was done because otherwise you would end up with the highway peg at a 90* angle with the bike. There is no way that would be comfortable. So how do you bend 1/4 inch steel at home? Hang a 240 lbs guy off of it with a big pair of vise grips and a steel pipe. I almost pulled the bench over and my back out of place but it worked.
So here is the unfinished product. For the little that I have ridden so far they are very comfortable. My heel sits on the edge of the floorboards with the peg at my arch. I can move my heel back and rest my toe on the peg also. If I really scoot down in the seat I can put my heel up on the peg but I don't expect to do this on the road.