Discussion Starter
•
#1
•
I AM NOT POSTING THIS TO GET INTO A DARKSIDE DEBATE. I'M POSTING FOR KNOWLEDGE ONLY BY PROVING THAT THIS WORKS!
Yeah baby!!!! It works and it works very well.
Having researched for hours, days and months, what I found is that the
195
/55r16 is a perfect CT for the stock Vision. Lots are running that with trouble free positive results.
If you run with a trailer hitch, what I read was that a
185
/55r16 is what's needed. What I couldn't find out though was what rubs or is the issue with running the 195 and the trailer.
I could find absolutely no one out there that has a Darkside
NESS
Vision. Only a few Ness's even ran a trailer.
Since I worked with Bushtec to get the hitch to work properly for the Ness, I thought I could go ahead and try the CT on my Ness. With the lower suspension of the Ness I wasn't willing to try the 195 (stock Vision size) but rather decided on the 185.
I am not new to running a car tire on the rear of a bike. I ran my VTX for thousands of miles pulling it's own Bushtec trailer. I absolutely loved it and vowed when the time came I would attempt it on my Ness.
I am so glad I did. The tire is a Hankock Ventus V2 Concept tire. I got it through Amazon. $85 delivered.
I knew that the car tires should have 3oz of Dynabeads so I ordered them through Ebay. $15.50 delivered.
I removed my tire and rim, removed the sprocket, then took the setup and new tire to our local custom bike shop,
Full Throttle Customs
. Since they deal with those fat ass chopper tires I thought it would be a safe bet they'd instal my tire.
$35 and it was done. Funny when I picked it up. He said one word. "WHY?". I spent a few moments explaining. He seems genuinely interested. I told him if it did't work I'd see him soon to swap them back. If it did work, I'd see soon to show him the setup.
Anywho, got it home. I polished up the rim while it was off the bike, then went into getting her on.
Installed like it was the stock setup. You can see that the tires are very similar to each other (size wise). I noticed when I compared the uninstalled car tire next to the OEM tire/E3, the E3 was noticeably taller. After I had the car tire installed, it was taller than the uninstalled E3. For anyone doing a CT install, tires are different sizes when installed and filled with air.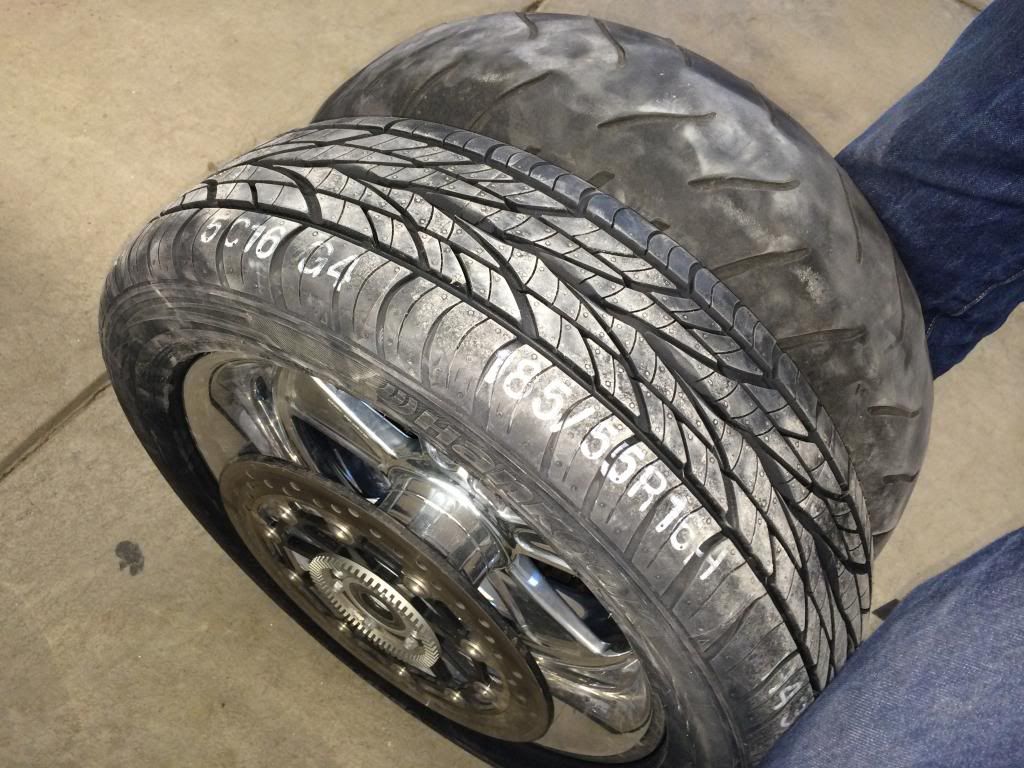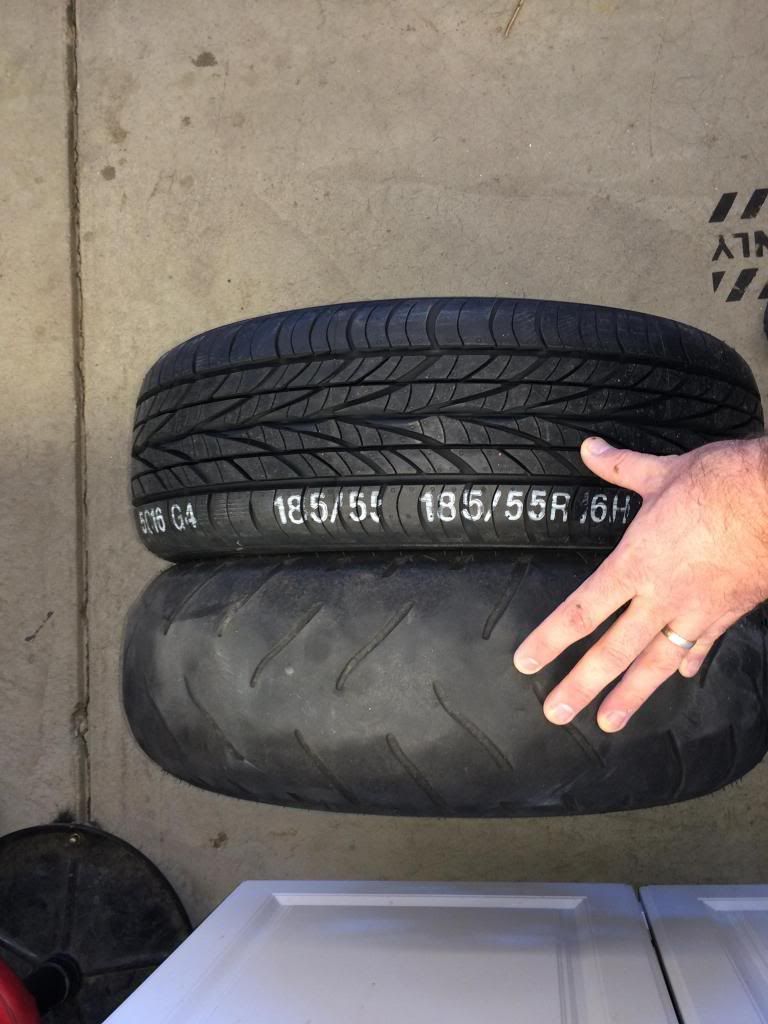 After all installed and buttoned down, I removed all the air from the suspension. I wanted it on it's stops (or whatever they are on this beast) like the shock failed on a trip. Down my driveway I went and over my "curb". While obviously stiff it felt great. Down the street and around the block I went. It felt less like it was on a car tire than my VTX did. IT felt WONDERFUL!!
Very little additional push required for a turn. It almost felt like it wasn't even there. Back up the driveway I went and onto the bike jack.
Nothing rubbed. NOTHING!! Aired back up the shock and set it on the ground.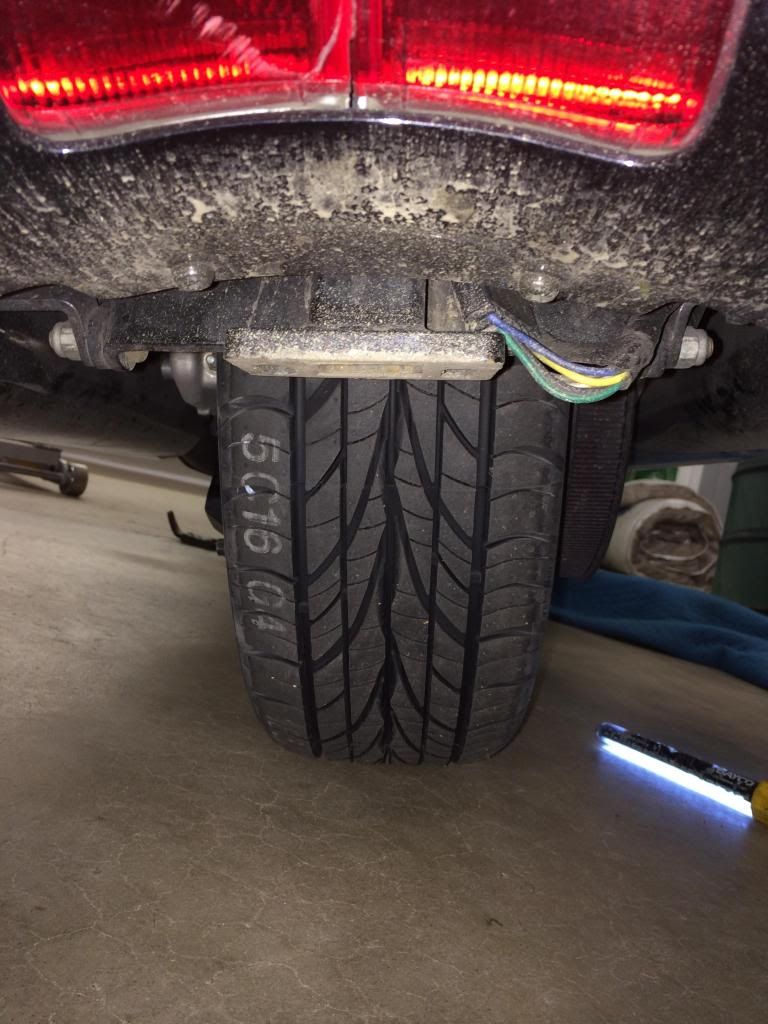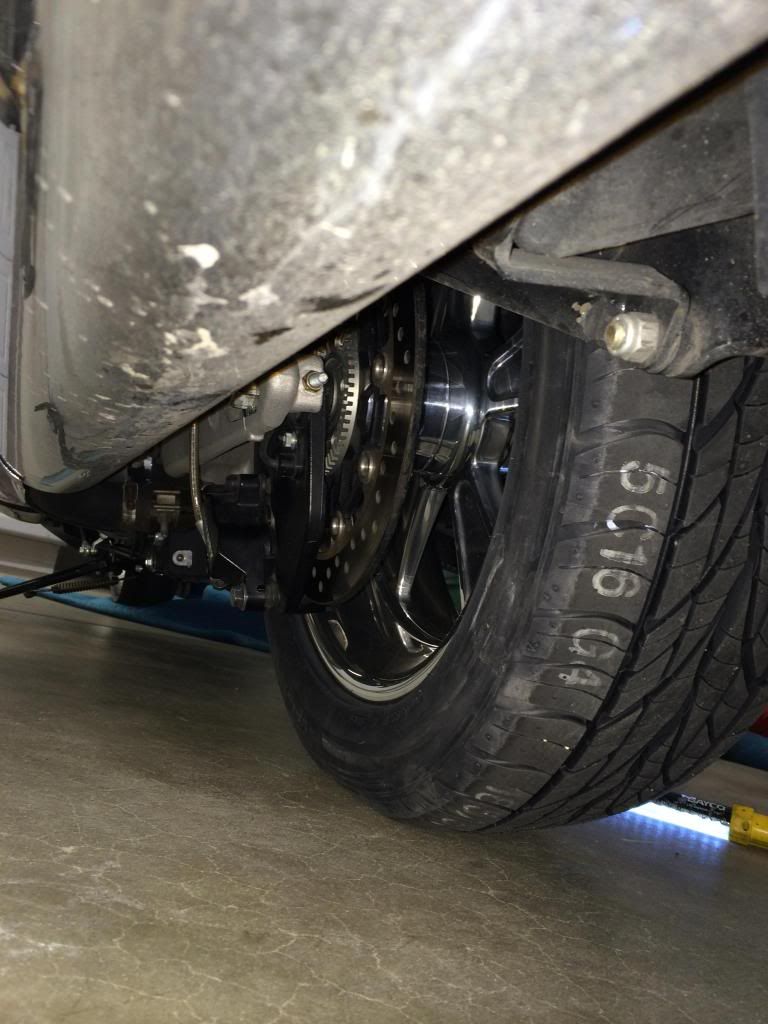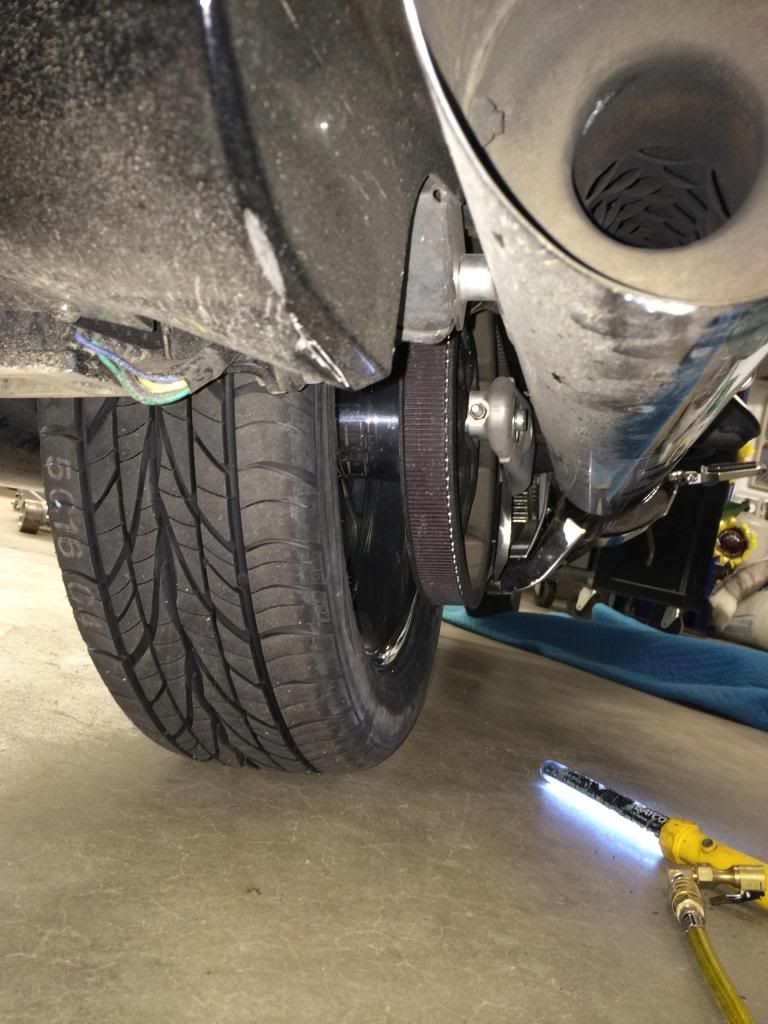 I can't wait to get her on the road. There may be a few weather delay days but soon enough I will.
Just a cost comparison
Tire $85 delivered.
Balancing beads $15
Mounting $35
Total:
$135 installed
.
1 hour of my time
New OEM tire: $235
Install OEM: $35
OEM replacement:
$280 installed
.
$135 versus $280 initial replacement
Bike tire 10k miles - Remember, I tow
Car Tire 40k
4 bike tires for 1 car tire
$1000 (conservatively) versus $135 over 4-5 years.
The look of those behind me on the twisties....PRICELESS
I ran the initial test ride at 35lbs. I know how to get the feel of the right so I will adjust and play to find my sweet spot. I expect I will be up there near 40 like I did on the VTX. Will see.
So, a NESS Vision with a trailer hitch CAN GO DARKSIDE!!