One thing we all have in common is that we ride. If you travel off the beaten path or rack up the mileage on pavement you know as well as I do that planning for all possible conditions is on top of the preparation plans.
Last summer, my family and I rode our bikes from our home in Colorado up to Glacier National Park with the return trip over July 4th weekend. As a family we have been fortunate enough to have never had to endure freezing or hot (like 100 degree plus) temperatures. This has always been a good thing because my wife prefers to ride in comfy conditions. I don't prefer extreme hot temperatures but it won't stop me from riding.
On our return trip through Wyoming we encountered those 100+ temperatures. The interstate speed limits have moved up to 85 MPH in that area but even moving that fast doesn't help an ounce with keeping cool. We attempted the old "soak down our shirt" routine for the first time (let's see..wet t-shirt on my wife, WHILE ON A BIKE! Doesn't get much better than that)… Man, that felt good for all of about 15 minutes. Then the shirts dried up and back we went to cooking ourselves.
This got me thinking of gear that would help cool me off. Is that possible? Does anyone make something that works? Not much out there. I won't go into what I found other than to say the options were limited and marginal at best. That was until I came across the CTC-100 made by
Core Temperature Controls.
This little gizmo was still in the design phase but in a nut shell it is a Liquid Controlled Garment (LCG) setup that is thermostatically controlled. Holy cow! Really? Really!!
I like to ride long distances. I have all the gizmos on the bike that make's my life easy while on the road. What I was lacking was how do I stay cool for my many trips planned over the summer. This led me to John Sims, the inventor of this little gem called the
CTC-100
.
This unit was put through it's paces and written about in the
Iron Butt Magazine
in 2013 and 2014. I was planning on a 5000 mile trip with the
Southern California Motorcycle Association
(SCMA) and it's
Three Flags Classic
ride (3FC) last year. Over Labor Day weekend a ride from the US/Mexico border and then up into Canada. It doesn't take too much imagination to realize that a ride covering a distance like that could and would put its riders into all the different climates, elevations, and temperatures the western states could throw at them. Startng in Tucson, AZ in late August? Yuck!!
That got me in touch with John. We chatted back and forth a few months until I met him in person at the Iron Butt InterNational Meet that was held down the street from me in Denver, 2014. My 3FC ride would have been a great opportunity to put the
CTC-100
through another test in real world conditions. Seeing this puppy at the meet in person was quite a treat and it did nothing but fuel my desire for this product. Unfortunately, during the Meet, John got a call and ended up needing the unit I was going to test for another demonstration elsewhere in the country during the time I would need it. What a bummer!
Now, jump from the summer of 2014 to now. The riding season had ended and John kept working his magic on getting the
CTC-100
ready for customers throughout the winter. We kept in touch because I truly believed in this unit and because of that I was going to get one as soon as it was available. I was on a mission.
Lo and behold, as I was going through my bike this spring to prep for the long riding season ahead, I was told the
CTC-100
was ready. Christmas was coming early and Santa had a new helper. Woohoo!!
So, let me explain what this thing is. For lack of better terms, it's a heat pump. Small, compact, weather proof, sealed, and functional. It's mounted somewhere on the bike, to the bike's power grid, and circulates liquid through whatever garment you decide to use.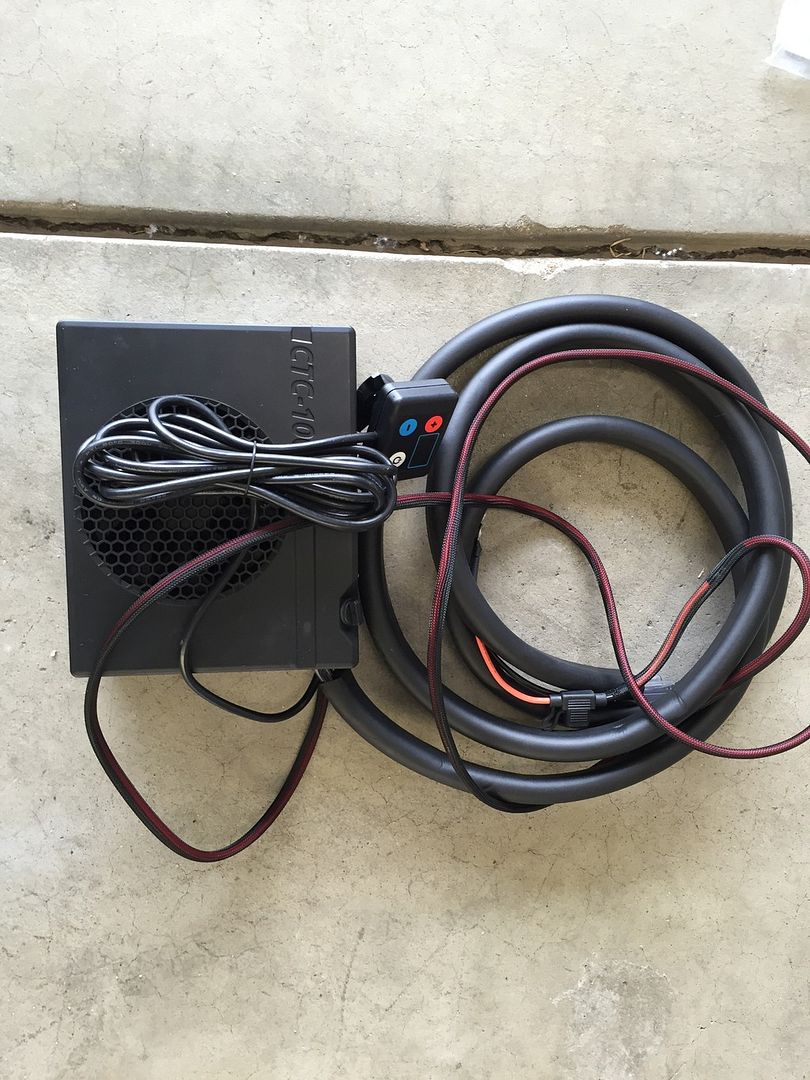 Two quick disconnect plugs (that close off when disconnected) connect your garment to the
CTC-100.
Somewhere on your bike you attach the control box which lets you digitally set the desired liquid temperature. Get this….60 to 130 degrees. You read that right sports fans. You get a constant cooled or heated garment that is truly a "set it and forget it" setup. Think about that for a second or two or three.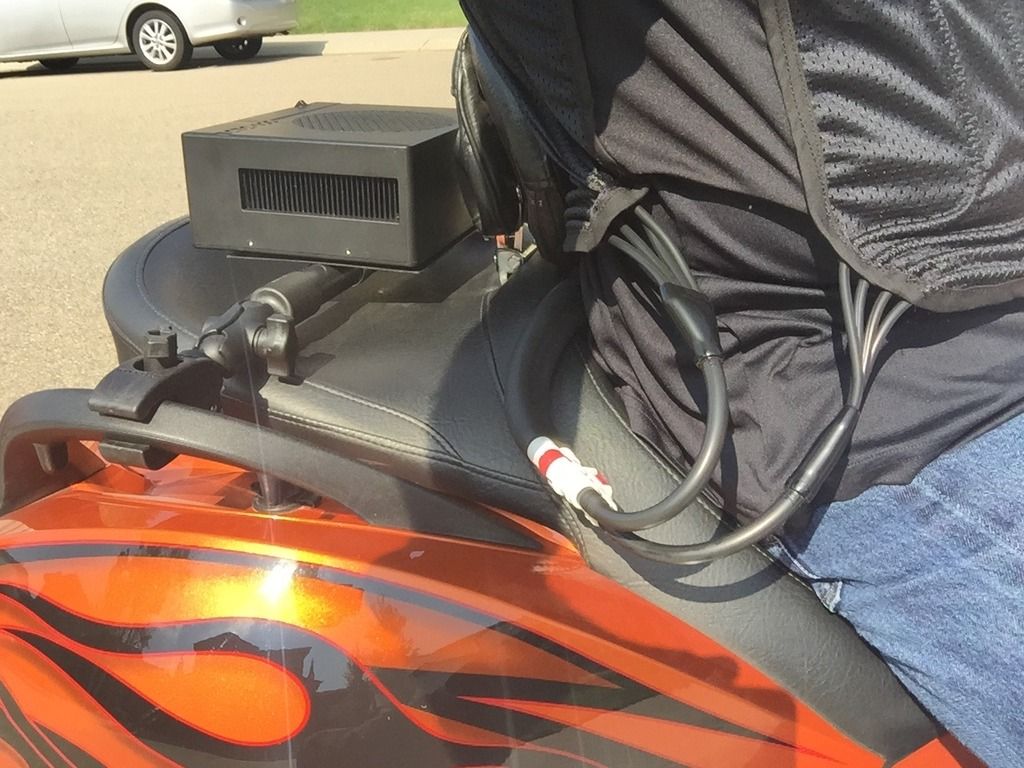 He sent me a unit to mount on my Victory Vision. Without going into a lot of details here, my challenge was where to mount the digital control box onto my bike. I don't have normal handlebars, don't have traditional clutch and brake reservoir mounts, and have just about every free spot on the bike taken up by a GPS, heated grip controls, radar detector, SPOT tracker, drink holder and a cell phone mount.
John has just about every mounting option available using
Tech Mounts
parts. If you have a Harley, BMW, KTM, Honda etc, he's got something to your liking. Me on the other hand, I had to get creative. Another story perhaps but in short I needed to use a RAM ball mount.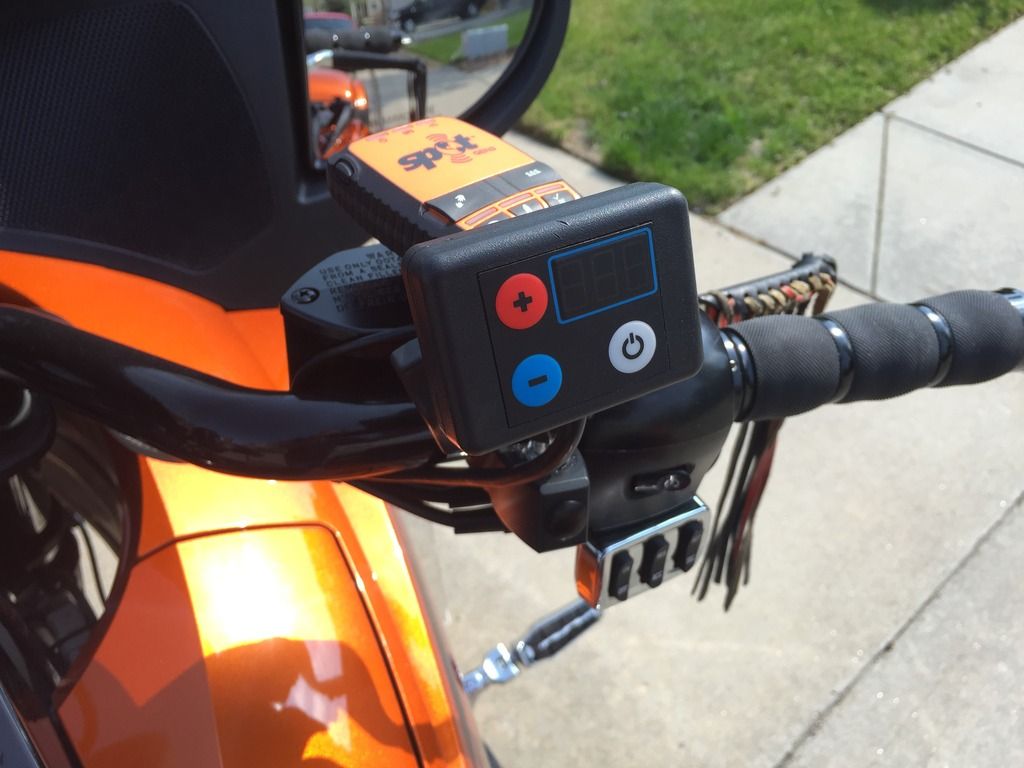 The
CTC-100
and the control module are hard wired together. This means it's either entirely on the bike or its not. A simple 12v pos and neg wire and a switched 12v wire is all it takes to wire into the bike. The 12v switched wire can be active or not by a few button presses on the controller. Like if you have your own switched options like a
Fuze Block
. You mount the
CTC-100
somewhere on the bike and mount the controller. That's it.
It is filled by you with a water and glycol mix that you get from
Core Temperature Controls.
I am not sure of the bottle size but I'll take a guess and say 16oz. I chose an LCG vest and use about 2' of tubing between the
CTC-100
and my vest. This requires about ¾ a bottle of fluid.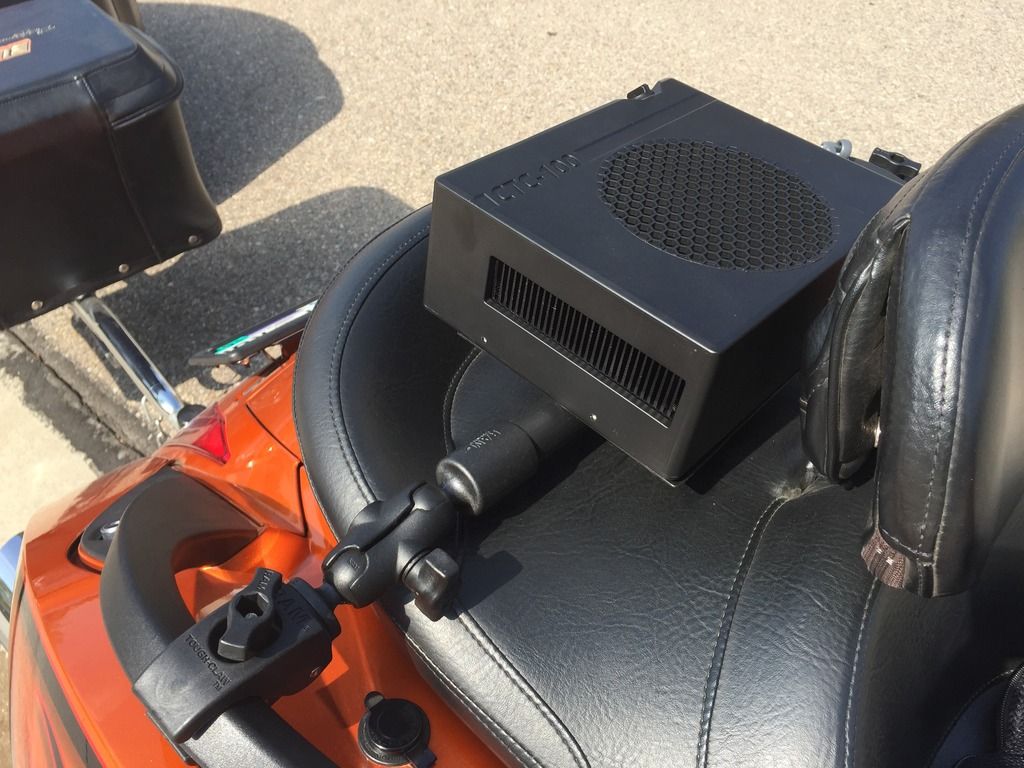 The LCG gear available from Steve is produced by
CoolShirt
. Like I said I chose a vest. The vest a mesh material with 50' of surgical tubing sewn into it. Extremely light yet strong and functional.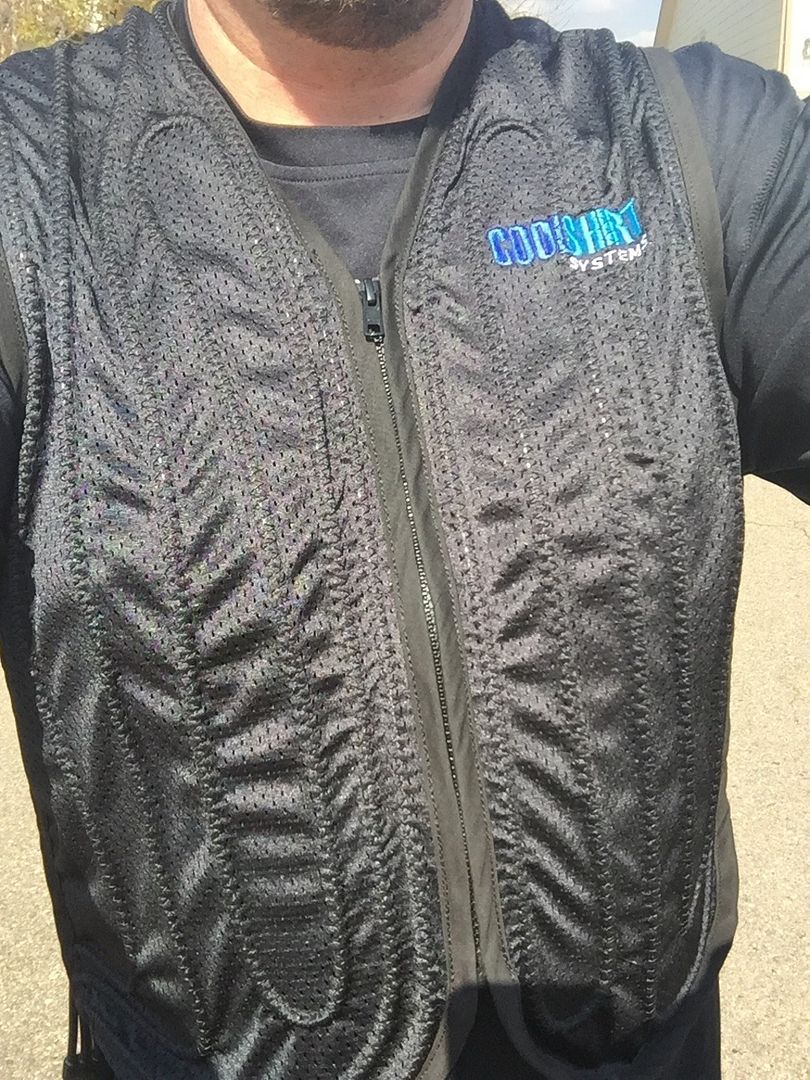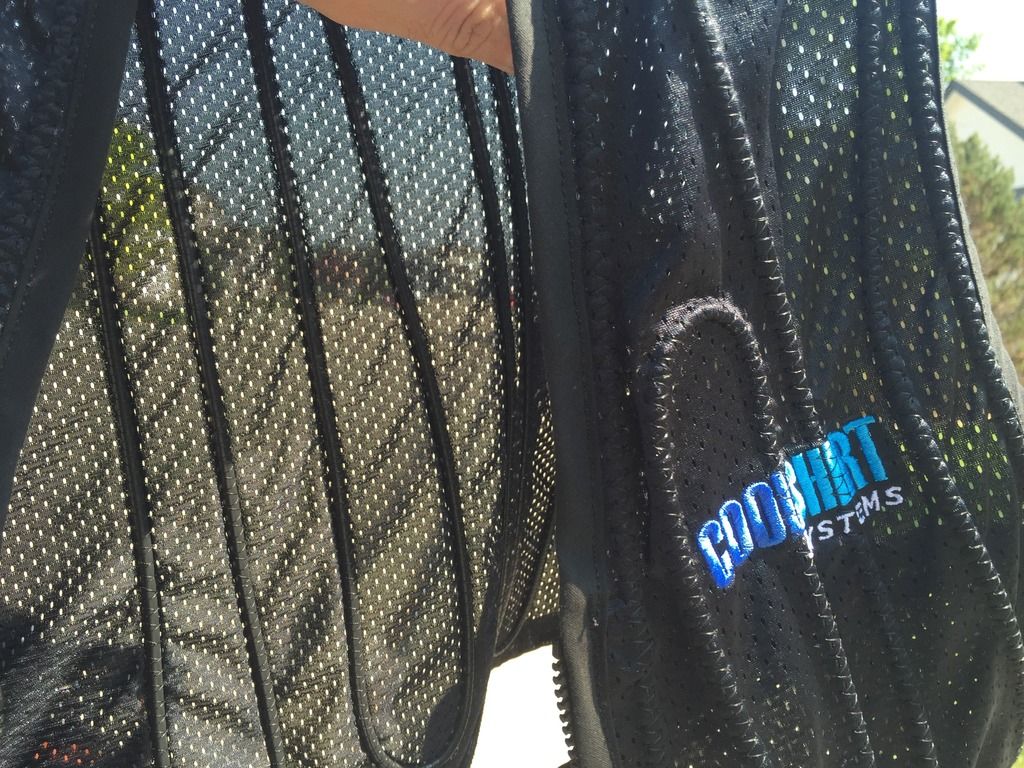 I have up until this point rode with a mesh jacket to enable air to get through to allow cooling. This in a jacket used with the
CTC-100
is a bit counterproductive. Why cool a vest if the air is going to blow over it and heat it back up, or visa versa.
With the
CTC-100
I ride with a textile jacket now. With keeping it zipped up and vents closed, the
CTC-100
is able to get to the temperature I desire and stay there without loss of outside are diminishing it's effectiveness.
Less than a week after mounting and trying the
CTC-100
out on local rides, I hit the road. I had a trip from my home in Colorado to Key West FL, to Boston, MA, to DC, then home via the Chicago area (I am actually on this trip, in the DC area as I type this). So far I have used the
CTC-100
for over 5300 miles in all types of temperatures, precipitation, and humidity.
From the moment I left home until my last mile to date I have worn the
CTC-100.
I left home with 50 degree temps and experienced up to 93 degrees in south Florida and everything in between. I will say this: Without a single hesitation or doubt, this thing works and works extremely well.
My first impression was filled with WOW as I had it set at 100 degrees during the cooler temps when I left Denver. As the day warmed up that 100 degrees was a little warm so I lowered the desired temperature to 80. After a few moments I felt the vest go from warm to cool, starting at the bottom of my vest and working up the chest and back. Like slowly stepping into a pool on a hot day. What a sensation.
As the day heated up I kept dropping the desired temperature of the LCG. No matter how much I played with the settings the
CTC-100
just happily followed by adhering to my commands.
CONTINUED.....