Thought I'd post in case anyone else hamfists their plug.
So....I did an oil change back in early June before Laconia, I didn't like the way the plug felt going back in but it seemed to seat & seal. Fast forward to earlier this week, I notice a small oily spot on the wood floor of my shed under the bike...s**t! sure enough I see oil drips coming off the drain plug. I put a little snug on it, but I knew
This is some of what came out with the plug when I pulled it yesterday morning.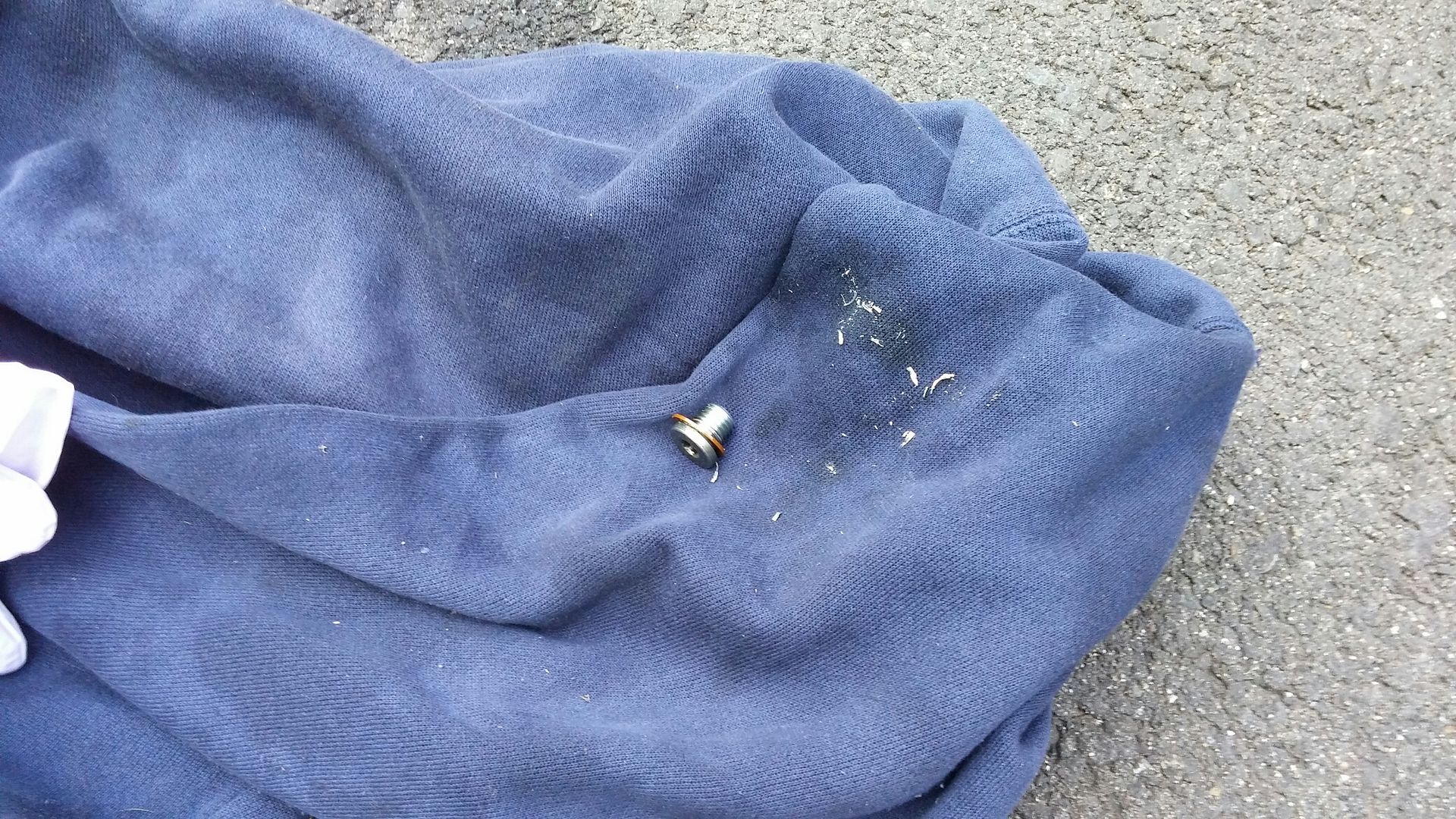 This could have been a MAJOR issue, I feel I got very lucky being able to repair it without a incurring a huge expense or having to pull the engine or both. Here's what I did.
We have an M12x1.5mm drain plug....of course, there is no oversize tapping plug(I could find) in this size. So I had to buy several types that were close. This is the plug that worked:
Needa Parts Oil Drain Plug Magnetic 1/2 Inch-20 S.O., Head Size 3/4 Inch
First I depth checked, since the stock plug is short, there was plenty of clearance. M12 is .47" so its a smaller hole than 1/2" but the chisel head on this plug allowed it to get in and get started. That was the most difficult part, working from under the bike and pressuring the plug evenly. I did get it started and slowly cut a few turns, then backed it out, removed any cuttings with a Q-tip and spray lube. Once I had made new threads I noticed the new plug has a small bevel on the nut(the stock is flat) so it won't sit flush with the case. I put some pressure on the new plug when is was full in to impress the bevel in the pan. Then I took the copper washer from the stock plug. Gripped it with a needlenose and carefully opened up the ID with a roto-tool until it fit over the bezel. There's not much material to remove, so this went pretty easy and worked like a charm. Once in with the re-fitted washer I had a flush tight seal. Before refilling with fresh oil I ran some of the drained oil though(with out starting) just to flush any cuttings out.
This took about an hour and cost $12(+$20 for a new gal. of Rotella) because of all the plugs I had to buy, but it worked. I took a 260mi ride afterward and its a solid fix.