Discussion Starter
•
#1
•
Hey guys, I figured I would share some stories and information about my trip... it was awesome. Except for my clutch cable breaking in Newark.... needing to run a bunch of red lights, ride on a sidewal or two to get back to our hotel... AND rode from Edgewater NJ to Limington Maine in less than 7 hours with no clutch.
The route on day two was incredible. From Sunnyburn PA to Salsbury MD was a terrific conbination of two lane roads and Americana... everything from Amish on horse back to old school diners and drive ins. That was route 372E and 472E..... I will try and figure out how to post video as I had my handlebar cam on whenever I saw something cool... Including a dude "planking" on a sport bike going 90MPH!!
Here are me and two of my mates at a drive-in somewhere on that route. Im the fat guy in the white shirt.... And, let me tell you that those bikes rolling through the tunnel under the bay made a fabulous sound!!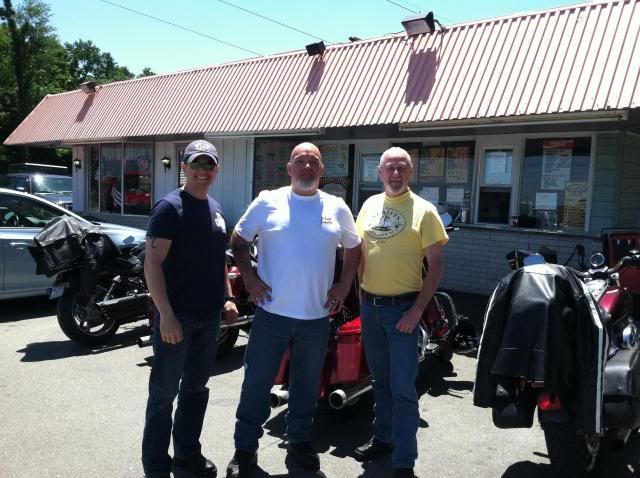 The trip to Orange County Choppers was a disapointment. We were there for maybe an hour, and that included lunch. We were the only ones (Employees included) who were on motorcycles. I had wet gloves because the first portion of the trip (Maine to Newburgh) it rained. No rain after that though. Anyway, I was looking forward to buying gloves there but they do not sell anything remotely motorcycle related. They are a diner & bowling alley with t-shirts and motorcycles on display.
But, oddly enough the food at the OCC diner was good. Worth a stop for lunch, but far from a motorcycle shop.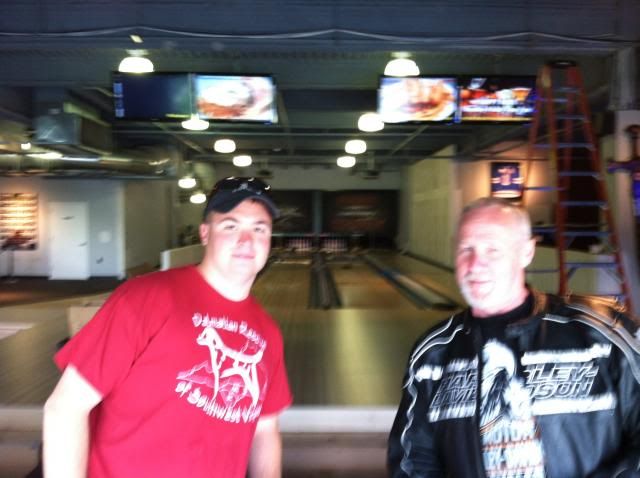 Virginia beach was nice, although we were not there very long and the staff at the hotel were rude. Or at least, after leaving York PA at Noon and riding all the way to VA Beach they SEEMED rude.
But, we were searching for the American experience and we sure as heck found "'merica" on this trip!! It is a little inside joke, but whenever we saw something that brought out our inner uncle sam we would pump our fists and shout out our patriotism to anyone in ear shot I LOVE this country.
My bike is the red one in front.... It performed flawlessly until NYC when by clutch cable broke.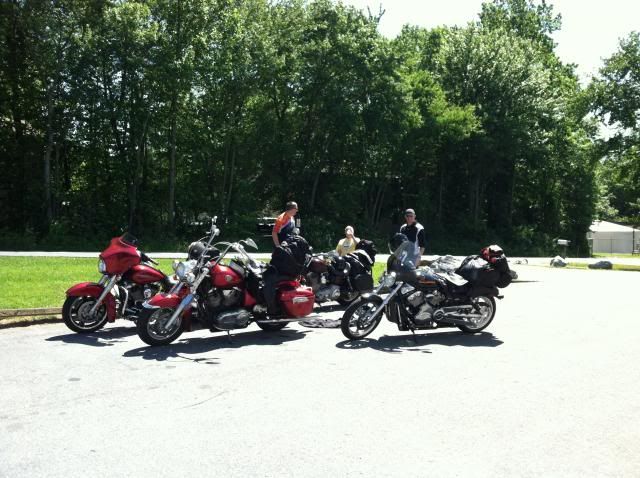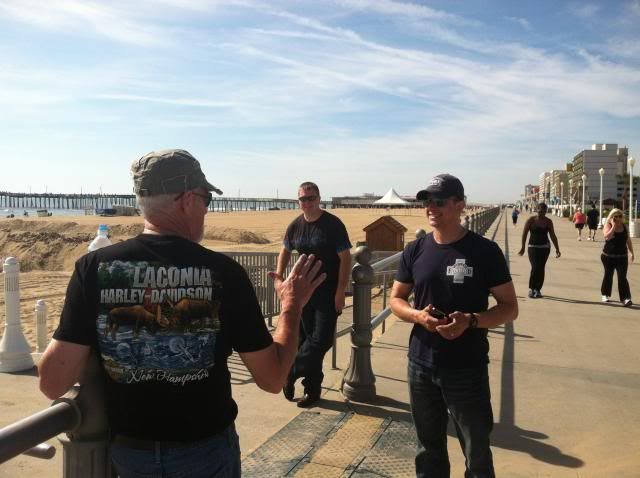 The ride from Virginia Beach to Myrtle beach was going to be on Route 17 the whole way, but one of the MANY nice people we met while having meals and fueling up indicated some heavy traffic with construction on 17 and redirected us to route 13 from Suffolk down to Windsor were we picked up route 17 again. This was not only great advice, it was a gorgeous route and very motorcycle friendly.
We ate at a place called "Ella's Cafe" in Windsor NC... it was cute, the folks were nice and the food was good enough!! We loved our meals, it was not only a time to refuel our bodies but to sit with, and meet the locals. Let me tell you, coming from New England folks are just nicer in the south. We ate at a place called "Chat and Chew Cafe" in Rocky Mount NC.... we rolled in there about 5 minutes before they closed. Tables were put away, floors mopped and everyone getting ready to leave. They not only opened the doors, fired up the grill and treated us like family but I got a hug from the waitress and her mom and she called me "shuggs".
The route from Windsor to Myrtle Beach was pretty cool. Everything from camp lejeune to airforce jets flying overhead. Many chances to raise our fists and yell "'merica!!"
Also, it was great being able to eat some foods that are not available in Maine... and maybe thats a good thing.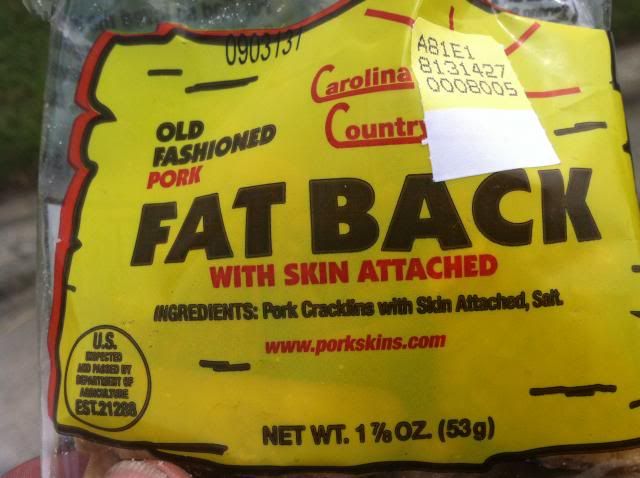 Once at Myrtle beach we could not be happier with our accomodations.... A friggen resort!!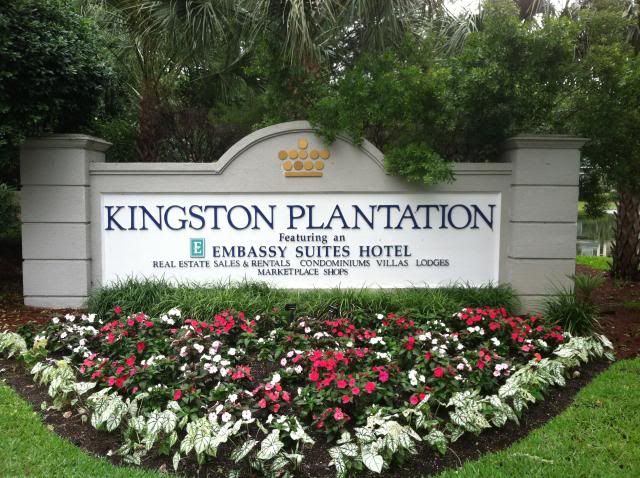 We were able to swin in tropical storm Andrea once the red flags were lowered. My friend Dan's wife (The guy in the orange) is also named Andrea so we got the chance to do a lot of "taking a dip in Andreas waters" types of jokes. You know, the perpetual 12 year olds.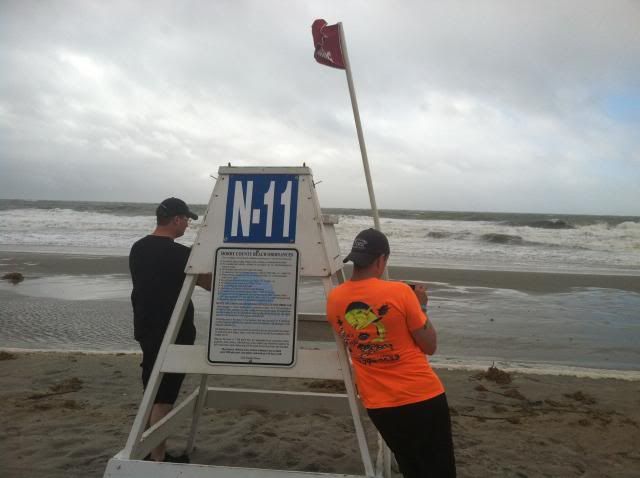 With the exception of no clutch in NYC it was pretty uneventful. Of note though, the Tony's were going on Sunday nigth so Times Square was hopping, and you cannot go to NYC without having a canolli and capachino in Little Italy.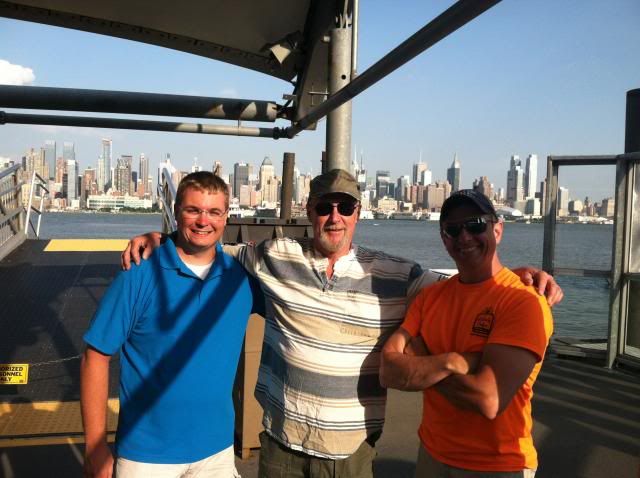 I hope you enjoy the summary 1/1000th as much as I enjoyed the trip!!